Connected Workplace & Productivity Solutions
Connecting your workplace through flexible technology services with change management
Maximizing productivity. Breaking barriers.
Unlock efficiency with Unduit's Connected Workplace services. Streamline costs, simplify vendors, reduce technology clutter, and upskill your workforce—all while ensuring compatibility, compliance, flexibility, reporting, security, and data sanitation for your organization
Onboard your distributed workforce with ease and efficiency
Efficient onboarding process is crucial for new hires. Unduit helps you provide them with the necessary devices, software, and settings to get them up and running in no time.
Configuring and delivering devices for new hires
Installation of necessary security settings & protocols
Setting up and managing user accounts and permissions
Simplify your employee exit management
Employee offboarding can be a tedious task, but Unduit makes it a breeze. We securely recover and manage your company devices, ensuring sensitive data is wiped and the devices are ready for reuse or recycling.
Securely recover and wipe company devices
Provide reports on recovered devices and data erasure
Handle device repurposing, recycling or warehousing
Keep your employees up to date with the latest devices
Keeping employee devices up-to-date is crucial for productivity and performance. Unduit's device refresh program ensures your employees always have the latest devices without breaking the bank
Speed up upgrade to the latest devices for your employees
Take care of device disposal or value recovery of old devices
Streamline the device refresh process for your IT team with powerful software platform
Leverage Unduit's Remote First System to Optimize Your Distributed Workforce
Unduit's remote-first system helps your IT team manage your distributed workforce, regardless of their location. Our system provides access to necessary devices and software, as well as secure remote support.
Provide remote access to necessary work equipment
Securely manage remote devices and ensure data security
Offer remote support to employees and IT teams
Automated lease tracking to simplify procurement
Unduit's tracking system helps you keep track of your company devices, ensuring they're being used efficiently and securely. Our system provides a clear chain of custody and real-time visibility into device usage and location.
Asset tracking for company devices
Real-time visibility into device usage and location
Comprehensive reporting and analytics
Stay ahead of changes with Unduit's adaptable system
Unduit's adaptable system helps you stay ahead of changes and quickly adapt to new business needs. Our system is flexible and scalable, allowing you to make changes quickly and efficiently.
Flexible and scalable system to meet changing needs
Easy-to-use system for IT teams and employees
Quick and efficient implementation of changes
Platform driven device management
A turnkey solution designed for complex enterprises to digitize your processes, improve data security & employee satisfaction. Unduit offers:
Future-proof your ITSM today
Unduit's Connected Workplace Solution allows enterprises to implement platform driven device management on a global scale. 


Our platform consists of various apps for custom use cases, allowing streamlined management of devices & IT services on-site, in remote environments and especially through drastic organizational changes like downsizing or mergers & acquisitions. 

Employee-centered Solutions
Upskill your workforce through automation, slash through redundancies that come with manual processes and working with multiple service providers.

Enhance employee satisfaction and productivity through:
Boost efficiency with Device as a Service
Simplify your connected workplace even further by switching from a pay per service model to one price per device for all services. Features include:

The Unduit Platform now comes with complete servicenow integration Connected Workplace & Its Business Impact
The Unduit platform is built for different use cases, tailored to your organizational needs

Designed to grow with growing businesses, offering a scalable and flexible solution that can adapt to your changing needs.

Ensuring that all your devices are up-to-date with the latest security patches and software updates, reducing the risk of data breaches and cyberattacks.

Save more by extending the life of your existing devices and getting the best value for used ones.

Complete visibility into all devices and their usage, allowing companies to track and manage their assets more efficiently and with greater accuracy.

Our solution minimizes the need for IT support by providing easy-to-use tools and resources for employees, freeing up IT staff to focus on more strategic initiatives.
Interested in boosting your IT ROI and Security?
Join over 200 enterprises already using Unduit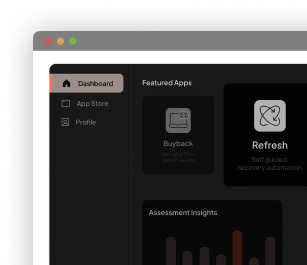 Interested in boosting your IT ROI and Security?​
Join over 200+ enterprises already using Unduit