Tailored for versatility, the Unduit platform seamlessly adapts to the unique requirements of every department involved in corporate device management, ensuring efficiency and alignment with diverse organizational functions
Custom Solutions for Every Team
Empowering departments with precision. Our solutions are customized for seamless efficiency and effectiveness across every team. Experience streamlined operations and maximized productivity.
Streamline your IT operations for enhanced security and efficiency with Unduit's comprehensive solutions. Whether it's device management, compliance, or cost optimization, we've got you covered.
Empower your HR team to enhance employee experience and productivity. From seamless onboarding to efficient offboarding, Unduit ensures a smooth journey for your workforce.
Strengthen your security posture with Unduit's advanced chain of custody tracking. Protect sensitive data, enforce compliance, and fortify your defenses against cyber threats.
Simplify administrative processes and improve operational efficiency with Unduit's intuitive platform. From logistics to inventory management, we've got the tools you need.
Maximize ROI, control costs, and drive profitability with smart IT for financial efficiency. Gain deep insights to ensure every IT investment contributes to your bottom line
Interested in boosting your IT ROI and Security?
Join over 200 enterprises already using Unduit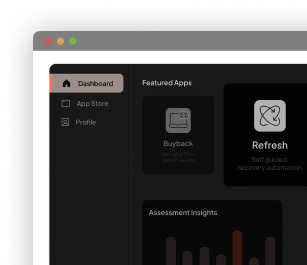 Interested in boosting your IT ROI and Security?​
Join over 200+ enterprises already using Unduit