Platform-centric solution to optimize value recovery from used corporate-owned devices
One price per device for lifecycle management
Optimize costs, lose multiple vendors, reduce technology clutter and upskill your workforce – all while ensuring a high level of compatibility with remote/hybrid environments, compliance, increased flexibility, reporting, security and data sanitation for your organization
Complete Device Buyback Flexibility
Sell your used or surplus devices with complete flexibility through Unduit's Global Buyback Program. Our platform offers centralized and decentralized interoperability that allows you to purchase or lease devices in bulk from a variety of sources, including device manufacturers, mobile carriers, and refurbished device vendors.
Buyback interoperability from multiple sources
Buyback of bulk devices with ease
Everything you need for buyback on one unified platform
Future-Proof Your Buyback Procedures with Unduit
Unduit's Global Buyback Program is designed to scale with your enterprise needs, no matter where you operate. With our expertise, you can future-proof your buyback procedures and optimize your total cost of ownership.
Enjoy flexible and scalable buyback options for a wide range of devices
Gain access to our platform's network of global partners
Save time and money by automating your buyback procedures with Unduit's software platform
Streamline Your Buyback Procedures with Automation
Unduit's Global Buyback Program is designed to automate and speed up the buyback process for IT managers, sourcing, procurement, finance, and operations teams. With our touchless automation and platform, you can simplify the entire buyback process, reduce errors and cut down on turnaround times.
Place orders and get quotes instantly through our user-friendly platform
Simplify your buyback procedures with our touchless automationBoost productivity and cut costs with Unduit's platform
Boost productivity and cut costs with Unduit's platform
Make Informed Decisions with Real-Time Insights
Unduit's Global Buyback Program provides real-time insights and detailed analytics into your buyback operations. Gain the visibility you need to make informed decisions and optimize your buyback procedures with data-driven insights.
Our platform offers real-time visibility into your buyback operations
Get detailed analytics and reports to help you make informed decisions
Identify opportunities for improvement and optimize your total cost of ownership with Unduit's insights
Data Erasure Made Simple with Unduit
With Unduit's Global Buyback Program, you can be confident that your data is safe and secure. Our compliant data erasure and green recycling initiatives ensure your devices are ethically recycled and your data is erased securely.
Total adherence with R2 recycling, GDPR, HIPAA, and PCI DSS regulations
Detailed erasure records and chain of custody details available
Minimize your environmental footprint with our green recycling initiatives
Get the Best Possible Return on Your Surplus Devices
Unduit's Buyback Program provides unbeatable value for your used devices, unlocking maximum return on your investment. Instead of worrying about dealing with multiple vendors to determine the fair market value, get competitive and customized prices for your devices instantly through our platform.
Customized pricing based on device type and condition
Get competitive quotes instantly
Maximize your returns on investment
Extract value. Upskill your workforce.
Unduit helps complex enterprises extract value from used devices with increased efficiency and ease, through our scalable platform.
Our global buyback program reduces burden on corporate IT resources, so they may focus on infrastructure, research & development rather than manually keeping tabs on each device.
Touchless automation through our platform
A turnkey solution designed for complex enterprises to build, manage and hyper scale asset buyback globally and within days! Notable features include:
Looking to refresh your devices?
While our Buyback Program can be used effectively as a standalone service, organizations also use it as part of their refresh process.

Our platform makes scaling your buyback programs into refresh programs simpler through interoperable apps for differing use cases.
Boost efficiency with Device as a Service
Forget about the hassle of device procurement through to disposal, with Unduit's Device as a Service offering. Features include:

The Unduit Platform now comes with complete servicenow integration Business Impact of Buyback Program
The Unduit platform is built for different use cases, tailored to your organizational needs

Maximize your returns on investment through our Buyback Program to reinvest in new technology initiatives.

Simplify your asset management process by getting a clear chain of custody and instant value for your used devices.

Reduce your organization's carbon footprint through Unduit's built-in green disposal and recycling.

Free up resources whilst increasing returns on investments to get the most out of your buck.

Unduit mandates complete data erasure, to protect your devices and sensitive corporate data against breaches.
Interested in boosting your IT ROI and Security?
Join over 200 enterprises already using Unduit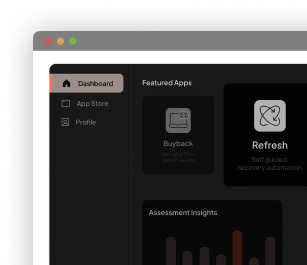 Interested in boosting your IT ROI and Security?​
Join over 200+ enterprises already using Unduit